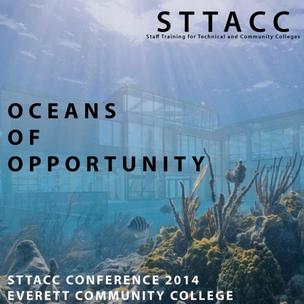 STTACC 2014 Annual Conference"Oceans of Opportunity"August 14 & 15 at Everett Community College
Thank You!
STTACC Board would like to thank everyone at Everett Community College, especially the Conference Committee, all volunteer staff and conference attendees for making this a great conference! 2014 conference attendees, we hope you gained valuable information and had a great time networking!
Remember to connect with us on Facebook.
Thank you for attending our 2014 Conference!The Banquet was held at the Holiday Inn.
Keynote Speaker: Ciscoe MorrisThe annual conference provided workshops in the following categories:
Emergency Preparedness & Wellness
Professional Development
Sustainability
Technology


For more information, check out the documents below:
Conference Agenda
About Ciscoe
Workshop Details
Workshop Speakers
Lodging Options
Optional Thursday Afternoon Activities:
ORCA Tour - EvCC's Ocean Research College Academy is now located in a state of the art facility on the Everett Waterfront at the Port of Everett's Waterfront Center. With a generous grant from the National Science Foundation, ORCA was able to build an oceanographic research lab for students. Complete with a 120 gallon seawater aquarium, fume hood, and fully equipped student islands, the lab was designed for collaborative and independent research. Executive Director Ardi Kveven has generously offered tours to our Conference attendees! (Select "ORCA Tour" for your optional Thursday afternoon activity on your Registration to participate in this tour).
Schack Art Center - Schack Art Center is a non-profit organization dedicated to promoting and celebrating the arts for the enhancement of community life. EvCC's glass blowing class is held at the Schack Art Center. Founded more than 38 years ago as the Arts Council of Snohomish County, the Schack Art Center opened in April 2011 and was named for John and Idamae Schack, in honor of their steadfast support of Everett's cultural institutions. The Schack Art Center will be hosting their Artist of the Year Preview on Thursday, August 14th, 2014. (Select "Schack Art Center" for your optional Thursday afternoon activity on your Registration to attend the preview).
Legion Park/ Evergreen Arboretum - Just 8 blocks from EvCC, American Legion Memorial Park is a four-acre park situated on the bluff overlooking Port Gardner Bay. It features spectacular views, tennis courts, baseball fields, a playground, a picnic shelter , Legion Hall , the Horticulture Center and Greenhouse, and the Evergreen Arboretum and Gardens. Referred to as Snohomish County's 'treasure', the Evergreen Arboretum & Gardens is both a place of beauty and education and is free to the public. Located on 3 ½ acres in Everett Washington, its ten themed gardens include the Urban Tree Walk, Entrance Garden, Rock Garden, Northwest Native Plant Trail, Rain Garden, Japanese Maple Grove, Northwest Demonstration Garden, Viewing Mound, Woodland and Conifer Gardens as well as the 200' Snohomish County Master Gardener's Demonstration Border and sculptures throughout. Weaving through these gardens are ADA approved pervious pathways in most areas. (Select "Legion Park/ Arboretum" for your optional Thursday afternoon activity on your Registration to visit the park & arboretum.)
For more information about STTACC,
visit www.sttacc.net
For more information visit the conference webpage at https://www.everettcc.edu/administration/admin-services/hr/sttacc-conference
---
---
Take a look at Everett Community College campus and community in this PowerPoint presentation.