Board Members
Board Members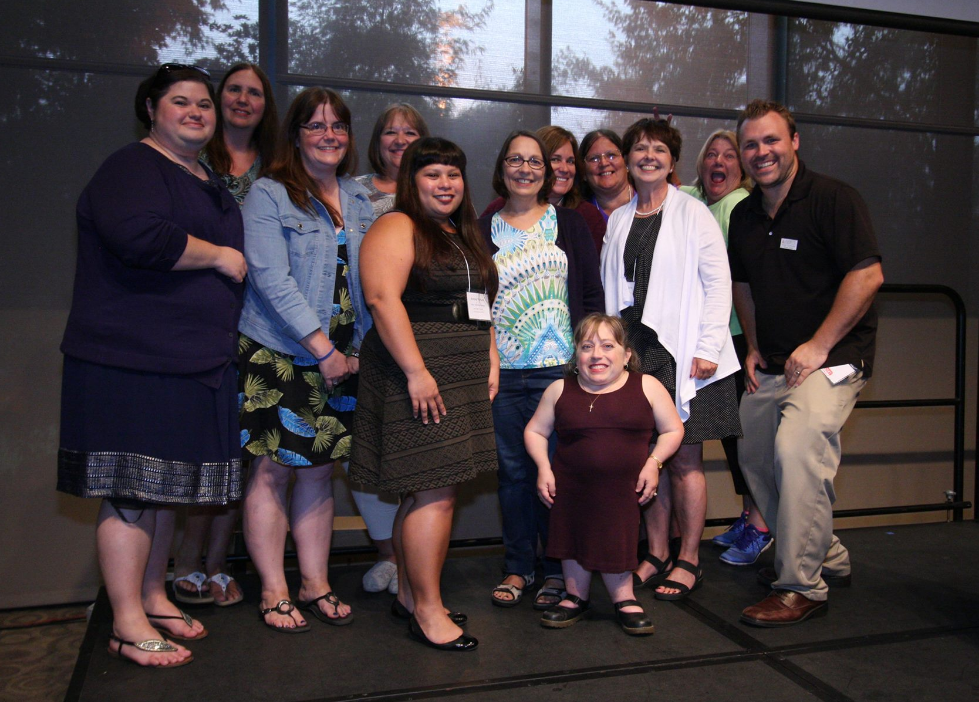 President: Paula Boerner

Grays Harbor College
president@sttacc.net ​

I have worked for Grays Harbor College since August 2008 in the Adult Basic Education Department (ABE) contracted for the Department of Corrections at Stafford Creek Corrections Center.    As the Program Coordinator for the ABE  Department. My duties include serving as the GED Test Administrator and CASAS Cadre at Stafford Creek.  In addition to the ABE Department, I support the Life Skills Computing and Basic Bookkeeping programs.In January, I will be starting my 3rd year serving on the Staff Development and Training Committee for Grays Harbor College.  It has been my privilege to attend several STTACC Conferences and I have met some truly amazing people!  I am looking forward to being a board member this year and helping to get people more aware of STTACC and why they too should get involved.

President Elect: Micki Wells

Green River College
presidentelect@sttacc.net

Micki Wells has worked at Green River for 20 years in Telecommunications and thinks it is a wonderful place to work with amazing people. Micki has previously held positions on the STTACC Board as President-Elect and President in 2006-07.

​Micki's experience in the college system and involvement with STTACC will surely be an asset and continue our progress in fulfilling the purpose of STTACC which is to contribute to the productive utilization of classified staff training organizations statewide by identifying and discussing classified staff development activities and needs, assisting member campus organizations interested in classified staff development, maintaining communication with member schools and organizations concerned with staff development, and maintaining STTACC networks to implement statewide classified staff development activities. She is looking forward to meeting everyone and helping STTACC continue to be an amazing organization with plenty of opportunities for all classified staff.

Secretary: Cindy Cannella

Pierce College
secretary@sttacc.net 

Although I had worked at Pierce College part time for nine years and full time for two, it wasn't until I was elected to our training committee that I discovered STTACC. At the second conference I attended, Region E was in need of a Coordinator and I was "volunteered". Although I had no idea what I was getting myself into, I found it to be a very rewarding experience. The small amount of time one invests by serving on the STTACC board far outweighs the many rewards one receives through the contacts and friendships made throughout the state. After serving many years as the Region E Coordinator, I went on to be President Elect, President and Secretary and thoroughly enjoyed my time on the STTACC board. My life is richer because of it. Although the circumstances that bring me back to the STACC board as Past President are very sad, I am happy to be back. It is so exciting to see so many new faces on the board since I left!On a personal note, I am a native Washingtonian born and raised in Puyallup and have lived in the Olympia area since my marriage 37 years ago. I have 3 grown children and 5 grandchildren, the oldest is 13, and the youngest is 5. But the love of my life right now is Darby Doo, a 2 year old Dachshund acquired as a surprise Christmas gift in 2013. Surprise is putting it mildly but he is now my main squeeze and I cannot imagine life without him.

Treasurer: Marjie Stratton

Grays Harbor College
treasurer@sttacc.net         
​
After working in the construction industry for 16+ years, I began my new career at Grays Harbor College in 2011.  My husband and I moved to Ocean Shores to enjoy full-time beach living in September 2011 and what a wonderful change that was for us.  As Program Assistant for Workforce Education, I complete budget tracking for our 13 programs and provide support to instructors.  I am also taking classes to earn my AAS in Accounting.  I am looking forward to assisting the rest of the board in providing service to our fantastic classified employees.  When not working, I enjoy "glamping" in the RV, reading, and walks on the beach.

Communication Coordinator: Shelly Scanlan

​Everett Community College
CommunicationCoordinator@sttacc.net        

My official job title is Program Coordinator, but I am fortunate to be involved in several different programs at Everett Community College. I provide administrative support to the Instruction Office and the Center for Transformative Teaching. Each day brings a variety of responsibilities, which means I always have something to look forward to. I am at my happiest when I can utilize my creativity and organizational skills and my current position offers plenty of opportunities for that.

I am passionate about professional development and serve as Chair of the Everett Community College Classified Staff Training Committee. I have attended three STTACC Annual Conferences and believe that the training opportunities and camaraderie among colleagues are indispensable.

I love being on the STTACC board and feel fortunate to be part of the only state-wide organization focused on professional development specifically for classified staff.

During my free time I enjoy boating, beaching and playing in the sun! I am married and have two grown children.
​
Connect with me on LinkedIn!

Conference Coordinator: Wendy Glenn

Wenatchee Valley College
ConferenceCoordinator@sttacc.net 

I have been working for Wenatchee Valley College for a little over four years, as the Secretary to the Dean of Libraries and Learning Technologies. I mainly work in IT (the Learning Technologies part) because that is where my background mainly is. I worked in IT for the banking industry for almost 20 years. I've been with computers since I programmed in BASIC and FORTRAN. My experience in IT and banking has helped me to excel here. And I never want to stop learning. I live in Manson with my husband and 2 pets; and our son is now attending Wenatchee Valley College.

Region A: Barb Crowell

Grays Harbor College
RegionA@sttacc.net

​I started working at Grays Harbor College in Feb. 2009 as a part time cook in Charlie's Café.  After 1 ½ years I moved down to the Bookstore as a fulltime cashier.  One year later I was moved back to Charlie's to be the Food Service Manager and I have been here ever since.

My husband and I raised 3 wonderful boys who make us proud every day.  I am returning to school this fall in our new BASOM (Bachelors of Applied Science in Organizational Management) program.  I have always wanted to go back to school, I received my AS here at GHC, and now was the perfect time because I can continue to work and take classes without having to leave home.

Region B: Nancy Harris​

I have worked for Seattle Central College since September 1996. Currently, I'm the Program Coordinator for the Dental Hygiene program at the Health Education Center in the Allied Health Division. I've been working in the capacity since August 2011. I have held other positions in this Division as well as in the Humanities Division. I truly enjoy working with students and assisting them in finding their pathway of achieving their educational goals. In this role, I have the opportunity to help with outreach activities to recruit new applicants for the dental hygiene program. I find these events very rewarding.

 I look forward to every time I have the chance to attend a STTACC conference. I find them rejuvenating and everyone I meet enriches my capacity to learn new and fun ways to perform my duties.

Region C: Amy Erickson


 




Region D: Barbara Collins

Big Bend Community College 

I started my career after graduating from Blue Mountain Community College in Pendleton, OR in 1975.  I worked for Bechtel Power Corporation at the Boardman Coal Fired plant and then at Hanford 2 in Richland, WA totaling 7 years.  My husband and I moved to Dallas TX for a short journey in 1983 and then moved back to Kennewick to have our fist son in 1984.  Shortly after this we moved to Moses Lake in 1985 and our second son was born in 1987.  We have been married 37 years and Moses Lake has been our home for over 32 years.  I am a lifelong learner, taking college courses that will enhance my role as office support staff.  My goal is to complete an AAS in General Studies or Administrative Professional Services with industry certifications in Microsoft Office (Word/Excel).Over the next five years, I was a stay at home mom and then transitioned into volunteer community projects and part time employment. I was hired at Big Bend Community College in November 1996 as an Office Assistant II for Tech Prep, a Perkins grant program that funded dual credit for high school students in professional/technical programs.  Over the next 5 summers, I became familiar with other campus services, business-finance/student services/center for business and industry, and aviation pilot program before advancing to Program Assistant and a 12-month contract.  I worked this job until 2011 when funding no longer supported the program.I then joined the Title V program, assisting all administrative support and projects to the Title V director and staff team. I was able to take on a variety of leadership roles as a member of the BBCC classified staff STAR (Staff Training and Recognition) Committee, participated in Lean Training to simplify contract process, and other supervisory and leadership opportunities.I believe in the mission and vision of STTACC.  This is why I volunteered as Region D Coordinator this year.  I have been a recipient of the STTACC Exemplary Award (2009) and I served on the organization committee when our campus hosted the STTACC conference in 2013.  I have been our college STTACC Chat reporter for over 7 years, and campus contact for 5 years.  I have had the opportunity to network with many campus classified staff and continue to use them as my sounding board for ideas to mentor and coach new leaders.  As our generation of classified staff veterans get ready to retire (me included), I want to reach out to our Region D colleges.  I believe I can do my part to help educate new leaders that will enhance campus and statewide roles in the generations to come.

Region E: Amelia Fortuno

Bates Technical College
RegionE@sttacc.net      

My career at Bates Technical College started in 2002 as a Bookstore Assistant, not long after I graduated from a liberal arts university (my reason for moving to Washington). My commitment to lifelong learning has led me to serve on several committees relating to staff development training and employee recognition. I succeeded in advancing my position and for the past decade have been the Administrative Assistant for Continuing Education, Apprenticeship and Boiler Operator Certification. Working in this department has given me a broader understanding of the demand for short-term training for professionals and the challenges of offering classes that will meet everyone's busy schedule.My goal is to do everything that I can to increase communication and involvement so that the training being offered is reflective of the needs of our members.

Webmaster: William Frankhouser

Everett Community College Webmaster@sttacc.net  ​

Passionate about Universal Design and web technology, I joined the Web Development team at Everett Community College in 2003 as I was finishing up my bachelors degree at University of Washington: Bothell. I enjoy working with mobile technology, web accessibility, database design and server technology that helps as many users get to the content that they want.​Current projects I am working on the college include College Success, Guided Pathways, a new Intranet framework, ctcLink, MyEvCC Student Portal and others.I have a wonderful wife who looks after our two little kiddos at home as they learn and grow up too quick! While not at work, I enjoy time with family, friends and going on adventures!

Past President: Kristine Horndt

Everett Community College Pastpresident@sttacc.net
​

I was born and raised in the Seattle area.  I earned a bachelor's degree in Sociology from Central Washington University in 1997. Most of my career has been in higher education.  I have worked at Everett Community College for 11 years. The majority of those years were spent in the Center for Disability Services Office and more recently in the Testing Center. I enjoy interacting with students and helping them navigate the college environment to achieve their goals.